Recipe: Tasty Slow Cooker Beef barley soup
Slow Cooker Beef barley soup. Tender beef, hearty vegetables and plump barley… it's the perfect beef barley soup! Get out the slow cooker and get ready to enjoy one of the best comfort foods, with minimal effort! When the weather turns colder, it's the time for some SERIOUS comfort food… and this is my all time favorite.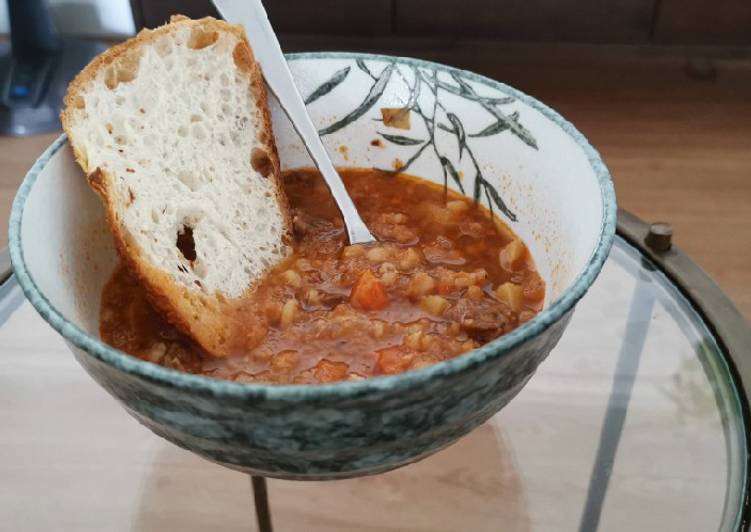 Select lean beef to prevent having to trim excess fat before adding the beef to the soup. Slow Cooker Beef and Barley Soup is loaded with tender beef, vegetables, and barley in a fragrant broth. There's no pre-cooking required – just combine everything in the slow cooker, simmer it low all day, and come home to this comforting meal. You can cook Slow Cooker Beef barley soup using 16 ingredients and 3 steps. Here is how you achieve that.
Ingredients of Slow Cooker Beef barley soup
It's 1.5 lbs of chuck roast.
Prepare 1.5 lbs of potatoes peeled and cubed 1/2 inch.
Prepare 2 of carrots peeled and cubed.
It's 1 of onion diced.
You need 4 cloves of garlic.
It's 2 tbsp of tomato paste.
You need 2 tbsp of better than bouillion.
You need 2 tsp of Worcester sauce.
Prepare 1/2 tsp of salt.
Prepare 1/4 tsp of pepper.
It's 4 sprigs of fresh thyme.
It's 2 of bay leaf.
Prepare 6 cups of beef broth.
Prepare 2/3 cup of barley.
Prepare of Option – mushrooms or other vegetables.
It's of oil of choice.
Transfer meat to the slow cooker. Reduce heat to medium and add garlic, onions, carrots and thyme and season with salt and pepper. Scrape the pan with a wooden spoon to loosen all browned meat. Crockpot beef barley soup is a filling meal perfect for hearty appetites.
Slow Cooker Beef barley soup step by step
Brown beef cubes in oil 1-2 minutes per side on med-high heat.
Add beef and all ingredients to slow cooker and cook for 4-5 hours.
Fill liquid to the top or check if more is require later..
Lots of tender beef, potatoes and vegetables make this a delicious meal that is super easy in the slow cooker. Heat oil in a large skillet over medium high heat. Add beef roast and sear until browned on all sides. Add to the bottom of a slow cooker. Add the carrots, celery, onions, garlic, parsley, oregano, thyme, broth, tomatoes, bay leaf, and barley to the slow cooker as well.